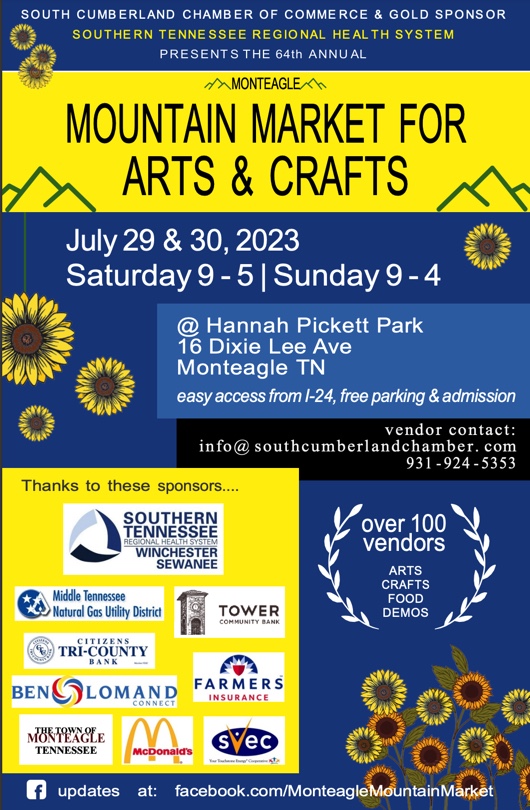 OUR COFFEE TRAILER WILL BE AT THE 64th ANNUAL MONTEAGLE MOUNTAIN MARKET FOR ARTS & CRAFTS!
July 29 @ 9:00 am
-
July 30 @ 5:00 pm
This event will feature over 100 artisans and crafters displaying their handmade creations which will include: fine art; stained glass; pottery; fine, primitive and refurbished furniture; bird houses; paintings in a variety of media; quilts; woodcrafts; folk art; toys; jewelry; chain saw carving demonstrations; blacksmith demonstrations and lectures; cigar box art; metal art; soaps and lotions; local honey; embroidered baby items and doll clothing; knitted and hand sewn items; and so much more.
A variety of delicious food will be available from Beans & award-winning BBQ to Mediterranean food and roasted corn, Baklava, and everything in between. There will be something for everyone, with both breakfast and lunch being served!
This event will be in Hannah Pickett Park behind City Hall. The park has picnic tables, and nice playground equipment for kids of all ages. City Hall is at 16 Dixie Lee Ave in Monteagle, TN, conveniently located off of I-24, exits 134 and 135. One hour from Chattanooga and Huntsville, and an hour and a half from Nashville.
You may also contact the Chamber at (931) 924-5353 or [email protected]. Additional information can be found at the Chamber's Facebook page https://www.facebook.com/events/2228422837370284/